Colleges and Universities Offer Psychological

 
Services for Students of Color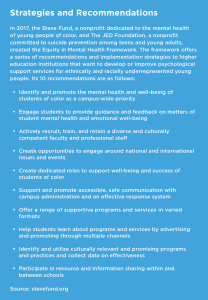 This July marks the 14th annual observance of BIPOC (Black, Indigenous, and people of color) Mental Health Month, previously known as National Minority Mental Health Awareness Month. The observance comes at a critical time on college campuses, as concerns regarding psychological and emotional well-being are at an all-time high for young people and students, especially those from underrepresented communities. 
Ample research has shown that the educational, economic, and social turmoil caused by the COVID-19 pandemic has increased anxiety and depression among college students. For young people of color, these effects have been compounded by racial violence and discrimination. Yet this population is significantly less likely to obtain psychological support services due to the high costs of mental health care, the social stigma associated with seeking treatment, a lack of access to culturally competent counselors, and a general mistrust of medical professionals, according to the organization Mental Health America. 
A 2018 study published in the Journal of Adolescent Health found that among college students with clinically significant mental health problems, only one-third of Latinx students and one-quarter of Black and Asian students received treatment compared with half of White students.

Some colleges and universities are addressing these disparities by improving overall campus climate and mental health support for people of color. In observance of BIPOC Mental Health Month, INSIGHT recognizes some of the institutions whose innovative programs and initiatives are increasing access to crucial services and advancing psychological and emotional wellness for ethnically and racially underrepresented students. 
Grand Valley State University
The Grand Valley State University Counseling Center in Allendale, Michigan, offers several mental health resources that are specifically for students of color. The Let's Talk program allows these individuals to seek one-on-one culturally competent counseling at no cost. The center has also created the Racial Trauma, Management, and Self-Care Workshop, a virtual series that helps students identify and manage symptoms of race-related trauma and stress and develop healthy habits.
Illinois State University
Illinois State University offers the Students of Color Process Group through its group counseling services. The program provides individuals from ethnically and racially underrepresented backgrounds a safe space to discuss issues regarding their experiences as people of color in a predominantly White environment. Sessions are facilitated by culturally competent therapists and focus on topics such as imposter syndrome and microaggressions.
University of California, Berkeley
The University of California, Berkeley houses several community-specific mental health resources for students from underrepresented ethnic and racial groups. These include services for students who are Asian American and Pacific Islander, Black, Latinx, international, Muslim, Northern African, South Asian, or Southwest Asian. The university offers tailored health coaching, group counseling, and free consultations with trained therapists for each of these demographics. It also connects students from these groups to various mental health forums, guided meditations, and other support services. 
University of Florida
Through its Counseling and Wellness Center (CWC), the University of Florida offers numerous wellness and mental health services for ethnically and racially underrepresented students. These include group counseling for students of color in general as well as group sessions specifically for Black women, Black graduates, and Latinx students. The CWC also produces a podcast about mental health in college that focuses heavily on ethnicity- and race-related issues, such as White fragility and Black mental health. In addition, the center provides mental health materials in Chinese, Korean, Spanish, and more. 
University of Nebraska-Lincoln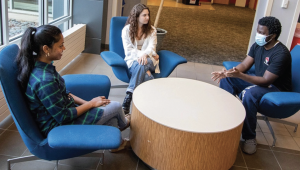 The University of Nebraska-Lincoln (UNL) has a wide variety of counseling and psychological resources designed for underserved students, including bilingual services, support groups, and individual counseling with staff members of color. Support groups include Brothers United for men of color, Sister Circle for women of color, and the Latina Discussion and Support group for Latinx women. Ethnically and racially underrepresented students can also be referred to UNL's Jackie Gaughan Multicultural Center for individualized counseling.
University of North Carolina at Chapel Hill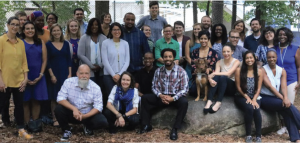 The Counseling and Psychological Services Multicultural Health Program at the University of North Carolina at Chapel Hill works to improve mental health care access for students of color through group therapy, outreach events, and individualized counseling. The therapy groups include sessions focused on empowering and supporting Black women and men, queer and transgender people of color, and graduate and professional students of color. During the spring 2022 semester, the program hosted a graduate students of color workshop series, which focused on building confidence and overcoming self-doubt, managing school and relationships, and creative wellness. The university also operates the Carolina Collaborative for Resilience, which matches scholars with diverse faculty to develop coping strategies for issues related to race, belonging, and identity.
University of South Florida
The University of South Florida's Counseling Center facilitates several diversity-focused mental health programs. Entre Familia is a counseling program for Latinx students to discuss culturally unique issues and concerns such as acculturation and immigration. Our Voices is a similar initiative for all students of color to experience a sense of community and support while on a predominantly White campus. The Let's Talk program provides a space for international students to seek counseling if they have difficulty adjusting to the U.S. due to language, cultural, and other barriers. 
University of Wisconsin-Madison
As of 2021, the University of Wisconsin-Madison employed 11 mental health providers who work exclusively with students of color as part of its efforts to expand wellness resources for those who are underserved. These counselors are experts in the experiences of people who are marginalized and can help them navigate life on a predominantly White campus. Students of color have access to both individual and group counseling services from the providers.●
This article was published in our July/August 2022 issue.